Parrot Party
Join the joyful spinning and winning festivities at Parrot Party slots from online casino software company Wager Gaming Technology (WGS). 5 slot reels and 25 pay-lines await you at this slot game, together with wilds, scatters, bonus rounds and a super sweet jackpot prize of 12.5000, which will make you want to party even harder when it hits.
Polly might want its cracker, but you want your slot game wins, and you're going to get them when you skillfully play this joyful WGS slot game. Claim your invitation to the exciting Parrot party and meet the birds that are going to make your life a lot more fun and your bank account a lot bigger.
What Do You Bring to the Party
Before you join the festivities, it is wise to decide what you bring to the party table. Your first important decision has to do with the coin sizes that are going to be used. In terms of coin sizes, you can choose a value that ranges between $0.01 and $10.00. This makes the game enjoyable if you're a low budget player, but also if you love to place high bets.
The second choice you have to make, is how much win-lines need to be activated. You are able to pick between 1 to 25 pay-lines. When all of the lines are active, you can start your spinning session with the lowest bet of $0.25 or the highest one of $250.00 per spin. Expect to win big when your $250 bet turns into a positive spin on the reels.
Form Your Winning Combinations With the Wild Hut
Watch out for the hut in this game as it is your wild symbol. It can only hit on slot reels two and four, and when it enters a symbol combination, it can function as a substitute icon for any symbol that is not a scatter. Furthermore, the wild is also connected to a special bonus feature. This feature becomes active when at least one hut icon shows up on slot reel two as well as on slot reel four. Click on each hut in the feature to reveal your lucrative multiplier reward. Every hut can reveal a 2, 3, 5, 10, 15, 20, 25, 50, 100 or even 250 total bet multiplier.
The Musical Notes Will Really Cheer You Up
The musical notes will cheer you up when they hit the reels, because they function as the very rewarding scatter icon. Wins made with scatters will be generously multiplied by the full wager amount. When these scatter gains are coming your way, they will be mixed with your pay-line wins.
Try to place at least two musical notes on the slot reels, because then you start to benefit from the scatter icon. Two musical notes are good for a one time wager multiplier, and from there on, your multipliers become better and better when you start to place more scatters on the reels simultaneously. The highest scatter reward is a 200 times wager multiplier. Imagine the payout if your bet happens to be the maximum amount of $250.
Other Slot Symbols in the Game
Parrot Party Slots is particularly interesting because of its bigger than average symbol combination cash rewards. The jackpot prize is really what you should aim for in this game, because it is a staggering 12500 reward that is being given to you when you spin the red, guitar playing parrot 5 times on the reels. Even the second prize for 4 hits can be considered a huge victory with this symbol, because that reward is still good for 1250 credits.
And wait till you learn more about the blue parrot, because he will also grant you a very generous prize that most slot games are not even able to match when they giveaway their highest jackpots. The blue parrot rewards your 5 times hit with a great prize of 5000 coins, and the second prize of 750 coins for 4 hits is also worth a mention.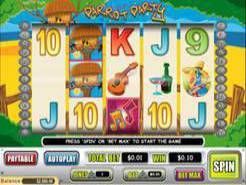 Further down the pay table, you will find the guitar, and even that symbol still comes with a very high payout of no less than 1000 coins for 5 hits. Its second prize is a 250 credit win. Furthermore, also make sure that you spin those bottles of rum on the reels, because what would a party be without the presence of some fine booze. Land 5 rum icons on the reels and receive a win of 500 coins.
The remaining symbols will look familiar to you, because they are card game icons. The blue A is good for a top prize of 300 coins, and the K puts 250 coins in your bankroll in return for 5 simultaneous hits on the reels. The Q and J both hand you a 200 coin reward for 5 reel hits, and the 10 or 9 do the same.
Let's Get This Slot Game Party Started
Wager Gaming Technology knows how to throw a good slot game party. In Parrot Party Slots, you will join a flock of birds that know how to celebrate. And don't worry if you're not a parrot, because you are more than welcome to dance, sing, cheer and spin along. Look up into the sky if you're looking to find your entry to the party and to the unavoidable winnings, because when there are birds involved, you can be sure that the festivities take place in the trees and in the clouds.
But these trees and clouds are not just outside in nature, because they are placed in a digital slot game environment that you can enter in WGS powered casinos that offer the Parrot Party Slots game to their members. Once you have found the game, you can play it for free or for money. But it really does not matter so much which of the two options you choose, because the party will always be very cheerful and entertaining.